Reseller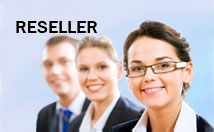 Hosting Web Space 10000 MB
Unlimited Transfer Volume
Unlimited User Accounts
Control Panel Plesk
Unlimited E-Mail Accounts
Unlimited MySQL Databases
Free Antivirus
Free Antispam
Unlimited Sub Domains
Unlimited FTP Accounts
–
Market web is in full ascent. And, as in any healthy business environment, only the most serious suppliers can expand and develop.
Web domains requirement is increasingly higher, while services should be increasingly more competitive.
Because we want to provide more and more performance, comes UniteHosting meet market demands with an offer designed reseller.
We offer all our customers support and solutions to any problem that may arise. Reseller package supported free.
We are at your service 24 / 7 to offer all the help they might need.
Our servers are located in the performing and stable datacentere for us to provide quality services.
I always prefer to choose the service beyond reproach. Choose only the most popular datacentere, reliable and offers advanced security, because you have at your disposal and to provide more competitive services.